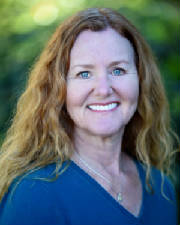 Tina Rasmussen, Ph.D.
Dr. Tina Rasmussen is a seasoned, trusted thought partner to leaders. She offers a unique perspective: three decades of coaching and consulting to executives across many industries and functions, combined with a lifelong dedication to unlocking human potential through mindful presence and emotional intelligence. Tina helps leaders deepen their own unique style, while fostering meaningful dialogue among individuals, teams and the larger organization to solve real problems and reach the "next level". Her approaches have produced measurable results in both "human factors" and bottom line performance metrics. Tina has been a member of the executive leadership teams of two successful organizations (healthcare and consumer products), where she led teams of up to 50 people. She has also co-founded her own non-profit which serves people in more than 40 countries globally. A sampling of her clients includes Kaiser Permanente, Odwalla Juice, Nestle, YMCA of the USA, Levi Strauss, Quest Diagnostics, US Bank, Citizen, Nokia, UPS, Oracle,Clorox, Pacific Capital Bancorp, Yosemite National Institutes, UCSF School of Medicine, and Continuing Education of the Bar.

Tina is the published author of three books— Organizational Integrity, The ASTD Trainer's SourceBook, and Diversity Mosaic—and is a contributor to Action Coaching. Case studies of her work are documented in four books on leadership and large scale change. Her work has been featured in the magazines Personal Transformation, Vision/Action, Business Ethics, and West. Dr. Rasmussen has guest lectured at Stanford University, JFK University, University of San Francisco, Saybrook, and UC Berkeley. She has presented at national events for The Conference Board, American Society of Training and Development, OD Network, Business for Social Responsibility, and the Greenleaf Center for Servant Leadership.

Dr. Rasmussen earned her Ph.D. in Human and Organizational Systems from Fielding Graduate University. Her certifications include: Coaching, the MBTI, the Leadership Circle, Emotional Intelligence, the Enneagram, and the Strengths Deployment Inventory. She is also an authorized meditation teacher. Her deep meditative experience and spiritual practice span more than 30 years. She leads retreats and offers 1:1 spiritual guidance to people worldwide.
"As a senior executive, it's hard to find someone knowledgeable, who you can be candid with, who will listen and help you develop concrete, actionable solutions, as Tina does. She has helped me with some big organizational changes, producing measurable results on 'human factors' that I thought weren't measurable, like leadership, team effectiveness, and even organizational culture. I highly recommend her."

---Max Villalobos, Senior VP, Kaiser Permanente



"Tina provided an inspiring vision of what was possible, bringing people together with grace, finesse, and the occasional appropriate confrontation. She offered practical tools that engaged people's motivation to "own the change" and carry it forward. We were recognized for changing the culture of our organization, largely as a result of her work with us."

---Dave Thornton--Chair, National Initiative Steering Committee, YMCA of the USA



"Tina worked with me and my team to foster cross-functional understanding and institute a significant shift in how the teams worked together. She was masterful in creating common ground and appreciation, identifying our opportunities to grow and change, and supporting me and my team members individually and as a whole to successfully implement the changes we committed to making. I highly recommend Tina and her work."--Chris Yelton, COO, The Sage Group



"Tina instantly became a catalyst, providing positive direction for our change effort to develop the culture we desire. She has great leadership ability, and relates easily to top management, peers and subordinates. In addition, you will enjoy working with her."

---Dick Thompston, Senior VP, Nestle Foods
"Tina is a knowledgeable executive coach, and change management / OD consultant with a holistic approach that she adeptly tailors to meet the needs of the organization she is advising. Tina has worked with me and my team over the past several years on a culture transformation - designing and facilitating off-sites with senior leadership; presenting at all-hands meetings and brown bags. In addition to providing expert OD advice and insights, Tina is also a change ambassador through her education on the fundamentals of change management and coaching of leaders."--Kelly Lake, CEO, Continuing Education of the Bar

"Tina made outstanding contributions to our success. In particular, the quality of our strategic planning dramatically improved. Tina is strongly committed to the success of others and holds herself to very high standards. This allows her to build trust, credibility, and support very rapidly."---

Tom Rafferty, VP--Operations, Levi Strauss & Co.
"Tina has been a great resource to speed up the work of developing a high functioning senior leadership team. She planned a series of off sites for the team to gain quicker understanding of their individual S&W and then for the team to better understand the development of team and more effective means of communicating. She has also lead a cohort of new managers in their development and ability to produce operational results through 1:1 coaching, leadership mentoring and peer study group. I would highly recommend her either for executive coaching or helping a new team to coalesce.

"--

Sandy Sharon, CEO, Kaiser Permanente Sacramento
"Our work together over the past year has been a very valuable process for our organization. In addition to being very skilled at training others to learn and use specific tools and concepts, I strongly recommend Tina because she is very easy to work with, communicates her ideas very clearly and—most importantly—she is effective at creating the atmosphere within a group where honesty and trust emerge."---

Andy Dreifort--

CEO,

A&D Precision
"Tina has been a valuable resource and a sophisticated agent of change. I have relied on her as a savvy thinker who understands the subtleties of every project, works quickly, and produces high quality." ---Michael Murphy, VP--Marketing, Pacific Capital BancCorp
Click Here to Download a Client Recommendation Letter for Tina Rasmussen